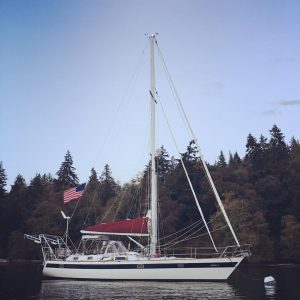 Lutris is a 1984 Norseman 447 center cockpit cutter rigged sloop. She was designed by Bob Perry (just like our previous boat) and built by the Ta Shing Yard (also like our previous boat). The N447s came in both center and aft cockpit versions, but if you ask me the center is a much better layout, at least for us. Our Norseman also happens to be the shoal draft version, and if we ever make our way to the Caribbean, we'll probably appreciate that, but up here in the PNW, it doesn't matter much.
Lutris means "Sea Otter" in Latin. Sea Otters are kinda of my spirit animal if you believe in such things, and when we were coming up with boat names, it resonated with both of us. She came to us by way of Tampa FL where she was cared for by a couple of lovely cruisers named Jill & Bud. They had spent time and money galore keeping her up and it showed everywhere.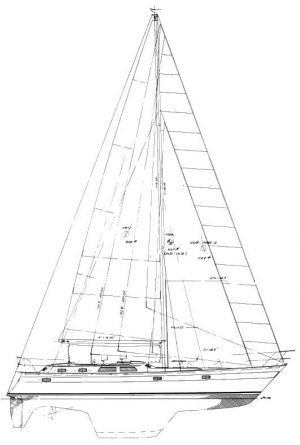 Our boat was fitted out quite nicely when we acquired her; a great solar arch with davits built in; generator, new yanmar turbo diesel, new sea frost fridge and freezer units, a new dink and outboard. The list goes on and on but you get the picture. The only thing I think we'd do to her before we make the big left turn would be to add a watermaker, convert the aft water tank to diesel, and maybe ditch 1 (or both) of the air conditioners. We have added a Cruise RO 30gph water maker, using the space that was created by removing the forward air conditioning units. We're stilling thinking about converting the aft water tank to diesel though.
We'll update this page as it becomes more obvious what folks want to know about.