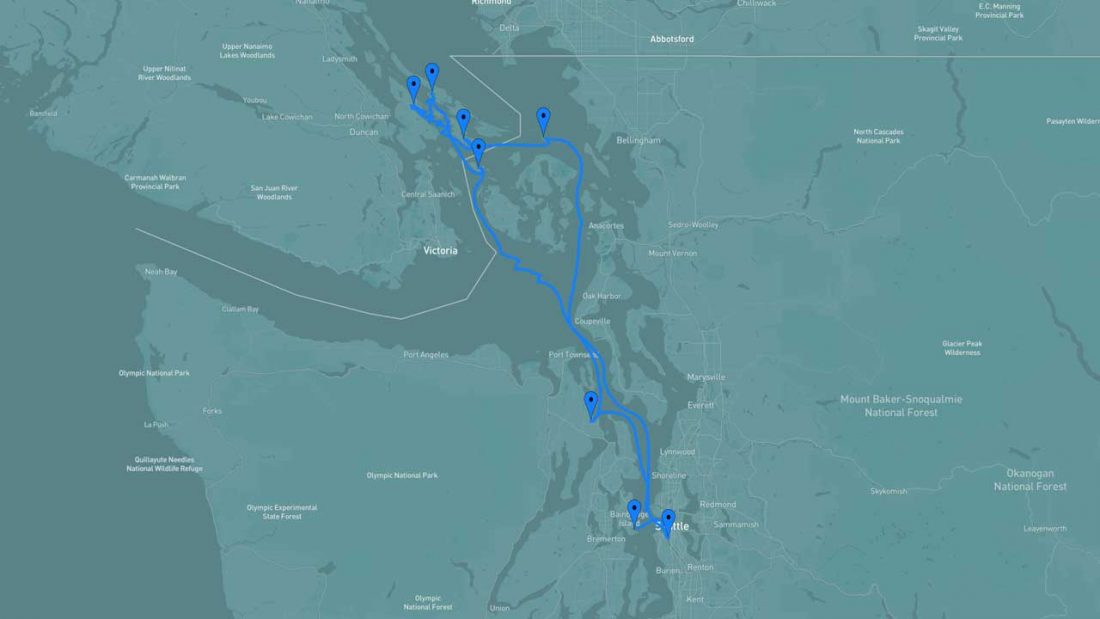 On our summer Cruise this year we did something that we've never done before, we took crew with us.
Boats are obviously tight quarters, and the biggest concern about bringing crew on board is not do we have enough provisions, or adequate holding tank space, but "Can we share such a small space with other people and not want to end up having them walk the plank?"
We first broached the subject of our friends Chris & Laura joining us on a summer trip casually over dinner. We'd given it nearly no thought, and least I hadn't, but it sounded like a fun idea. We'd had such a fantastic time the year previous on our trip up to Desolation Sound, and just knew this was their kinda of trip. They are adventurers, and while that usually takes them to the mountains they seem to enjoy the sea just as much. As a matter of fact their love of backpacking and camping probably contributed a bunch to us all getting along so well. As it turned out every few days there was some idyllic campground that you can only get to by boat and they enjoyed a night ashore (they brought camping gear). There was never even a moment that either Hong or myself regretted having them along, and by all their accounts they had a fantastic time as well!
One thing I'll mention about the whole experience is that we found it super practical to approach our friends (and for that matter, family) being aboard as if they were crew. We set out all the expectations before hand, discussed all the aspects of life aboard, and made sure everyone knew how they would fit in, over the corse of a few dinners. We worked out a few ports that everyone would want to call upon. And everyone put forth a few "don't want to miss" spots they thought the group would enjoy. If you'd like, you can have a look at our crew agreement.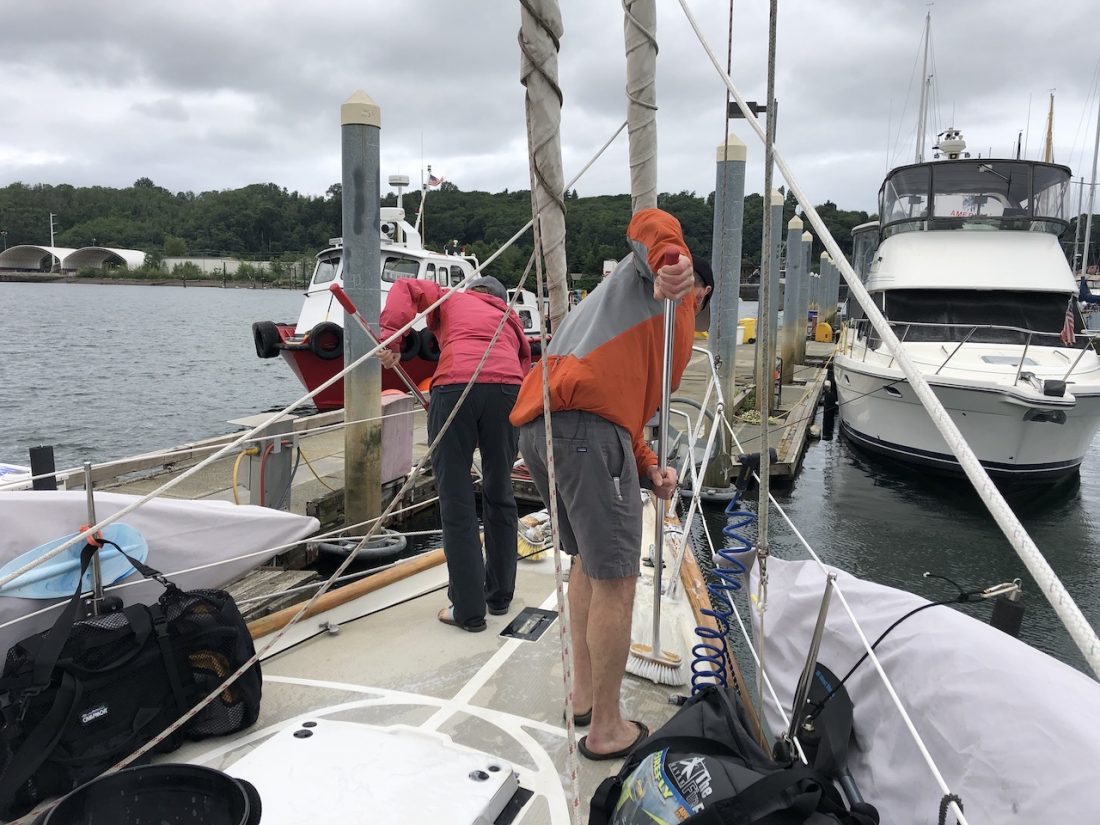 Not a [very] superstitious start
I've found that sailors are a notoriously [and stereotypically] superstitious bunch. There are so many causes of bad luck aboard a boat, that it is hard to keep track of them all. My general approach to the dizzying amount of warnings is that as long as you don't mention aloud that you are violating a superstition, you don't have to heed said warning.
It was late in January and we were huddled around Chris & Laura's dining room table. Charts, guide books & calendars were tossed about and we were trying to at least get some dates down on paper so that those who had to take time off work could get our vacation time on the books. It was looking like we could take the most advantage of a huge tidal swing on the weekend of the 29th of June to shoot as far north as we could in one day. We decided we could maximize everyones time off by leaving Friday the 28th, a violation of one of those sailors' superstitions. I was prepared to let it slide but then Hong, bless her heart, points out that we're really going to risk offending Neptune to leave on a Friday morning … Well that sealed that deal. We decided to "leave" for the passage the night before, despite all of us working that day, by hopping a couple of miles across Elliot Bay to Blakely Harbor.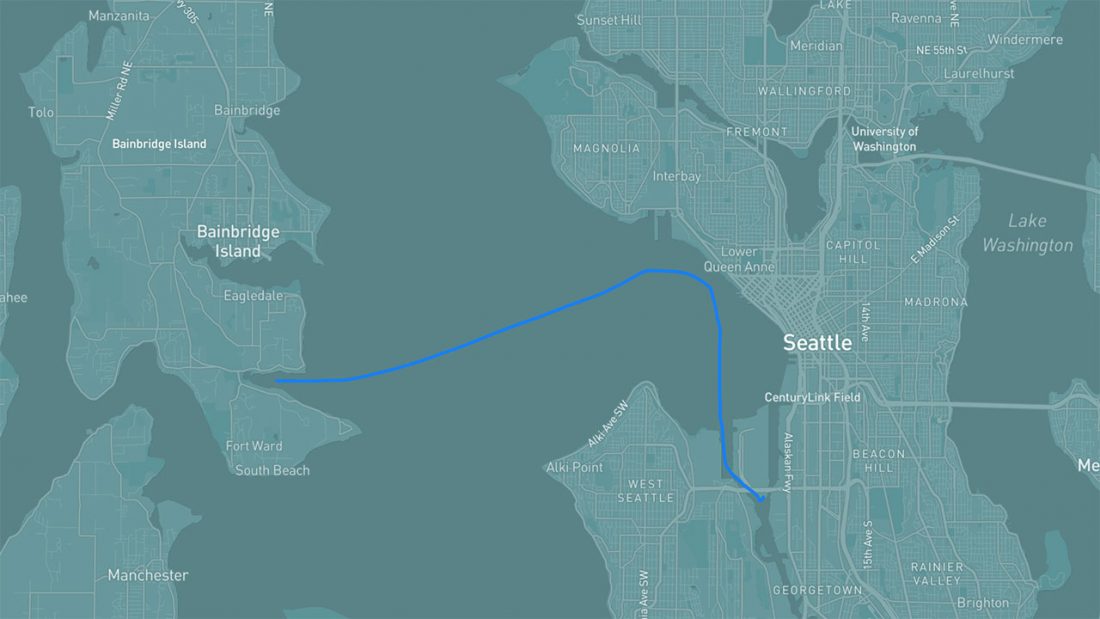 This turned out to be a pretty fortuitous decision for us because as we motored out of the Duwamish River that evening we started hear reports of orcas in the bay. We ended up pulling out nearly directly behind the pod of whales and trailed them north across the ferry lanes and over towards a sailboat race that was happening just outside of Elliott Bay Marina. We couldn't keep pace with the whales, but certainly had fun watching as the pod proceeded to plow directly through the field of 35-40 boats trying to race. When they were out of sight, we turned and headed over to our anchorage. We dropped the hook in 3 meters of water, tossed some steaks on the BB-Q, enjoyed some reflection on our luck with the orcas and quickly got to sleep. The plan was to weigh anchor just before the tide stared ebbing at 03:15.
Everyone was up at 3AM, the excitement of the journey properly starting palpable in the cockpit. We motored out of Blakely in utter darkness. Passing the West Point light we were treated to seeing all three of the cruise ships coming into to Seattle. Coincidentally that happened to us the year before, and seeing these 3 massive, 1000+ foot ships coming in surrounded by darkness, covered in neon, spot lights lights flashing and music playing to presumably empty decks at that hour, is quite a sight. The ladies went below and got a few more zzzs, while Chris & I welcomed the sunrise.
This was to be our longest day, trying to take full advantage of the current created by the 13.5′ tidal swing. We shot all the way up to the Straits of Juan de Fuca on the ebbing tide, just in time to catch the flood up through the San Juan Islands to our goal of Echo Bay on Sucia Island. We motored for 13.5 hours covering the 80 or so nautical miles in dead calm winds and seas. Everyone filled up their personal sleep quotas, read books & spent time enjoying watching the world go by sitting on the foredeck.
Sucia Island
I love Sucia Island. I know I'm not the only one. The entire island is a marine park and only accessible by boat. There are just so many nooks and crannies to explore by kayak and dinghy – some 77,000 feet of shoreline. There are many vistas to enjoy, and many trails to walk. It's delightful, even if it is usually packed full of other people. We spent 2 nights on Sucia, exploring the island and enjoying spending time getting used to boat life. There are no services on the island, but ample camp sites. Chris & Laura spent a night camping on the shores of Shallow Bay on the western side of the island. Everyone got their sea legs, and eased into the lack of cell phone coverage. It was a perfect entrance into the slower pace of boat life.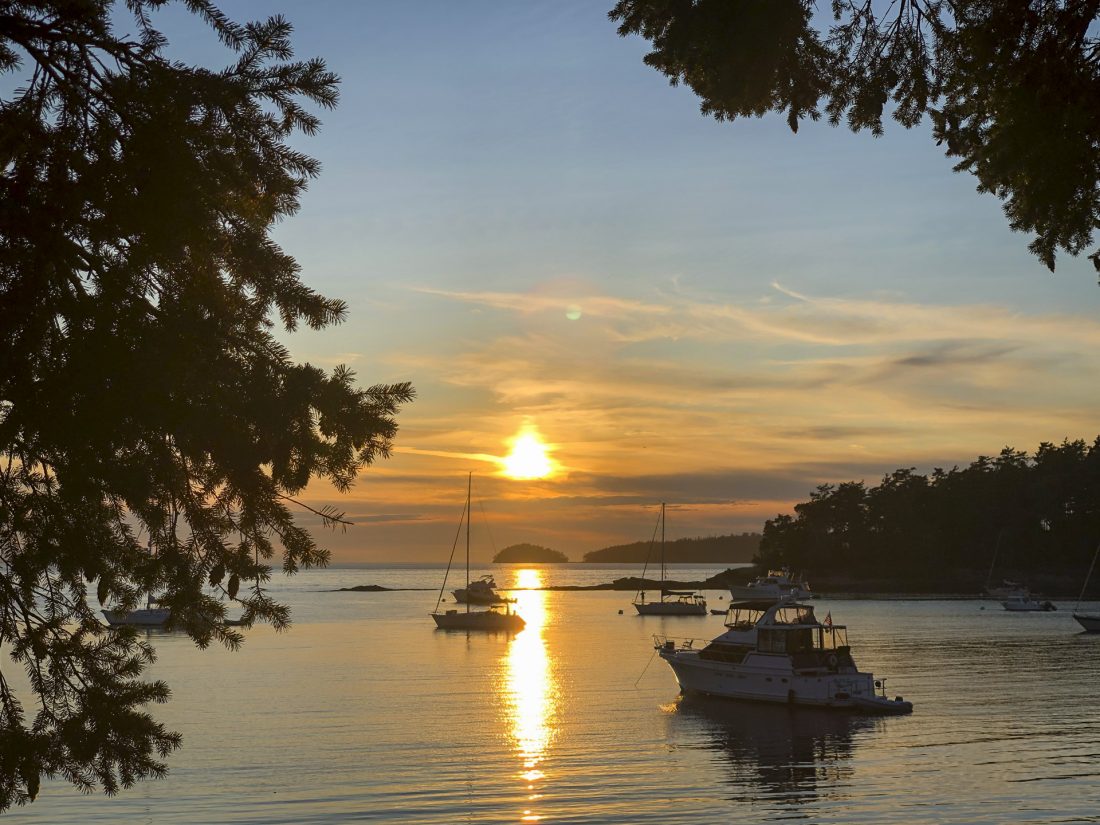 On Sunday we headed off for Canada & Bedwell Harbor, but that's a story for another post, as this is getting awfully long.
This is the first of 3 posts on our summer 2019 trip to the San Juans and southern Gulf Islands. I'm posting them now in December but after a few weeks I'm going to change their dates back to July sometime to more accurately reflect when I should have written them.
You can find the second post here.